A report by Reuters on Friday (January 3) states that from snow-covered North Dakota to Midwest Kansas, Texas, and Colorado, American farmers face the same problem at the beginning of the new year: what?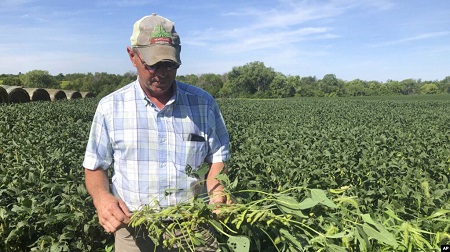 President Trump announced last month that China has agreed to double its imports of US agricultural products in the next two years, but Reuters reporters found that farmers are still less secure because the agreement has not yet been signed.
中国优质混合器、静态混合设备、管道过滤器、高剪切乳化机专业生产商
Sherlock, North Dakota said, "President Trump says we all have to buy big tractors. I don't think many people will invest a lot of money until they see that this is an established agreement and a long-term agreement. "
Qidong Gleit Petrochemical Equipment Co., Ltd .:
China's professional manufacturer of high-quality mixers, static mixing equipment, pipeline filters, and high-shear emulsifiers
Market analysts and agricultural economists have warned that the first phase of the agreement does not immediately address the U.S. agricultural economic problem, as the trade war has prompted China to develop new supply chains from Brazil and Argentina.
Reuters reports that Brazil is expanding soybean acreage after hitting a new high for soybean exports to China last year. In addition, China is investing in some South American ports.
In addition, under the swine fever epidemic, the Chinese pig farming industry has been working hard to reduce soybeans in feed, develop other alternatives, and shrink demand for soybeans as pig feed.
"We will not immediately return to the level we were 18 months ago," said Debertin, chief executive of CHS Inc, an agricultural company controlled by U.S. farmers, farmers and cooperatives, at a conference in North Dakota. Maybe not for a long time. "
According to the USDA, soybean plantings in the United States in 2019 were 76.5 million acres, a 14.3% drop from the previous year. The area of sorghum planted for feed and winemaking in China also decreased by 7.5% to only 5.3 million acres.
Sherlock, North Dakota and many people around him planted a lot of corn last spring. Corn prices were bullish at the time, and the government promised subsidies. They figured that with domestic buyers, plus old customers in Japan, South Korea, Mexico and other places, corn should be right. Unexpectedly, God is not beautiful, a severe cold destroyed most of the harvest. The U.S. Department of Agriculture says about 2 million hectares of North Dakota and 60% of corn is not suitable for harvesting.
At that time, many farmers in North Dakota lost their income and lost crops to obtain insurance claims. The corn they received and the government's trade subsidies were not enough to get them back.
Iowa farmer Hera said he plans to take a different approach this year and order more rye. He has now signed a contract with a startup malt company. Hera said that the trade war, natural disasters, and debt buildup have "completely disintegrated the US agricultural system."
Trade war affects California dairy farmers Some dairy farmers still stand up to Trump. Despite the impact of the trade war, VOA reported in a report last year that many American farmers still supported President Trump in the 2020 election. For them, success in international trade is a top priority. Most of these Americans voted for President Trump in the 2016 election, and before next year 's presidential election, due to the rising costs of operating farms, falling profits and an uncertain trading environment, these people face a difficult economic situation. But many American farmers say they still support Trump.
Chinese buyers resume imports, and U.S. sorghum supply exceeds demand. Texas is the second-largest sorghum planting state in the United States, and its plateau region is rich in sorghum. China's sorghum imports last year were less than one-tenth of what it was four years ago, making farmers in the region wonder if they would continue to grow sorghum or switch to corn. The cost of planting sorghum is low, which is only half that of corn, but it is also afraid of losing money.
Farmer Busser in Dimit, Texas, is now moving in and out of the valley. He told a Reuters reporter that he and his neighbours prayed that one day the fighting of the trade conflict would no longer be in their land.
Australian fire: strong winds hinder efforts to control flames